Important Information about recent security changes to our web site.

Problems you may experience while using A-Z Office Resource Online
If you input the User Name and Password and click on "LogIn," and the site keeps redirecting you back to the login form, with no error message, check the privacy and/or cookie settings of the browser application you use (e.g., Microsoft Internet Explorer).
Some users have also reported that the site will redirect them back to the Update User Information page when trying to Check Out. This is also an indication that you need to check the privacy and/or cookie settings of your browser application.
"Cookies" are small bits of information placed on your hard drive when visiting a Web site. Cookies help personalize a site, as they "remember" screens you visit often, cutting down the load time for viewing. Cookies must be enabled to login to your A-Z Office Resource OnLine account.
How We Use Cookies
To enhance and personalize your experience, we utilize cookies (a small text file that helps identify who you are on our Web site). Cookies also assist our Web site by enforcing security through authentication of your identity. A-Z requires the use of cookies on our site in order to enforce security and increase performance.

After you log in to our Web site, our server will attach a cookie to your hard drive. The file can only be read by our server and is completely unique to you. Your cookie works in two important ways. First, it authenticates who you are and, second, it recalls specific information you have already been asked and to which you responded. Based on the cookie, specific portions of the Web site are available and personally tailored to you.

The use of cookies is safe, as your privacy and security will not be compromised when you accept a cookie from our Web site. Cookies can not deliver a virus or execute code on your computer. Your cookie is unique to you and can not be read by other servers other than ours. Your personal information can not be gathered from your computer's hard disk or read cookie files from other Web sites. Cookies are only shared between us; we don't share them with anyone else.

Changing Cookie Settings
Note: A-Z Office Resource recommends Microsoft Internet Explorer 6.0 or higher. If you are using another web browser, such as Firefox or AOL, please consult your system administrator for help with this procedure.
1. From the Internet Explorer Tools Menu click Internet Options.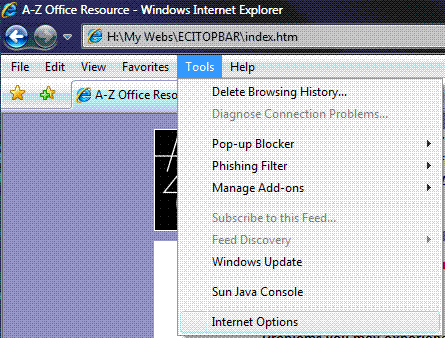 2. Click the Privacy Tab and then Click the Sites Button.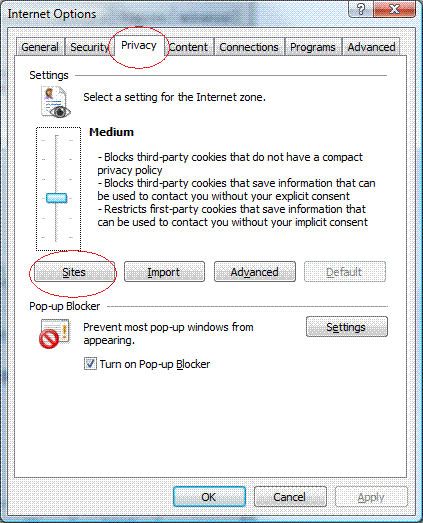 3. Type www.ecinteractive.com and online.azorinc.com in the Address box and click Allow.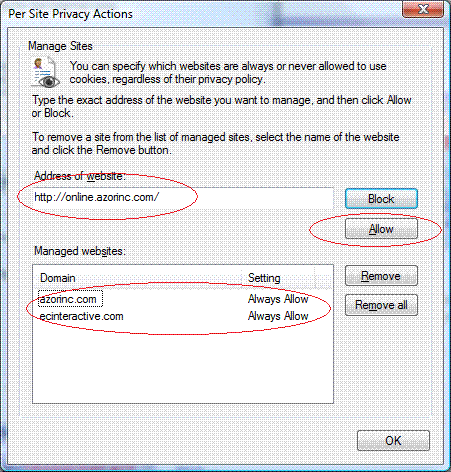 4. Click OK.
You may need to restart Internet Explorer for the changes to take affect. If you have further problems, please email us at support@azorinc.com